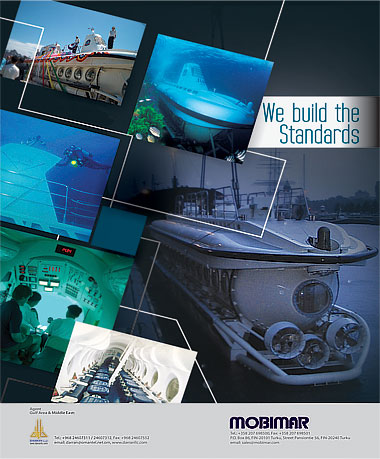 Mobimar Ltd. is one of the leading boatyard and engineering workshops that was founded in 1993. A private enterprise, the company has its roots in the OyLaivateollesuusAb shipyard, which was founded in 1945 and closed in 1989 (aluminium building since year 1968). The company has its design and manufacturing facilities located within the old shipbuilding area, also known as that Metso Paper Inc. industrial compound, situated at Turku Pansio Port.

The company specialises in marine products demanding employment of unconventional design approach and top quality aluminium and steel welding.
The company uses design toolssuch as Pro/ENGINEER and state-of-the-art 3D-CAD programme. Although, their design facilities are mainly for use of their own production, they also offerindependent design projects and hydrodynamic calculations.

Their Quality Control System is based on SFS-ISO 9001. The Environmental Management System ISO 14001 is binding within the Metso Paper Inc. industrial compound.

Their advanced facilities and technology have been approved and certified by leading experts and stalwarts in the field like American Bureau of Shipping, Det Norske Veritas, Germanischer Lloyd and Korean Register.

The company comprises an experienced staff of 60 employees. Moreover, it is the only company in Finland that has the capability of adapting to demanding technologies of today and tomorrow.